La version complète intégrant
Atmosfear 2.1
pour améliorer considérablement l'environnement graphique !
Ce mod Redux ajoute aussi de nombreuses améliorations au niveau des armes, de l'intelligence artificielle et aussi des items diverses. Il y a aussi de nouveaux skins pour chaque faction. Côté ambiance
le Overhaul 1.3
y a été intégré dans ce mod. Donc c'est un gros mix de plusieurs mods qui vont considérablement améliorer votre expérience de jeu !
Combat réaliste, la balistique, les armes, les noms et les descriptions d'armes.
- Les artefacts ont été rénovés avec de nouveaux noms, les descriptions et les effets, conduisant à 50 artefacts marque + nouvelles pour vous de trouver.
- Des centaines de variantes nouvelles armes, y compris des armes Nimble entièrement nouveau.
- Nouveaux types de munitions, de nouveaux produits alimentaires / médicinales, 60 + articles de nouvelles saveurs, et plus encore.
- Amélioration grâce à a.i intégré M.A.I.O.
- Amélioration des graphiques grâce à l'option, totalement intégré Atmosfear 2.1 et absolus mods pack de texture.
Changeurs de niveau entre Zaton et Jupiter pour le voyage gratuit sur pied -.
- Economie rééquilibrer, les récompenses de mission, les prix des biens de valeur, commerçant, tous retravaillés pour offrir
une expérience plus difficile que vous essayez de survivre
Le mod REDUX
*du réalisme
*de la durée de vie
*et de la difficulté

Quelques screens:
Spoiler:

Vidéos:
https://www.youtube.com/watch?v=w-KIw_NJKzw&feature=related
https://www.youtube.com/watch?feature=player_embedded&v=KxCZLAIY0fk
Télechargements:
Spoiler:
Liens:
Pour les Bugs
http://z4.invisionfree.com/STALKERRE/index.php?
--------------------------------------
Call of Pripyat: Redux v2.0 est en cours de développement, préparez-vous pour une Redux plus grand et meilleur que jamais.
La Version
Redux 2.0
est en préparation...
à suivre...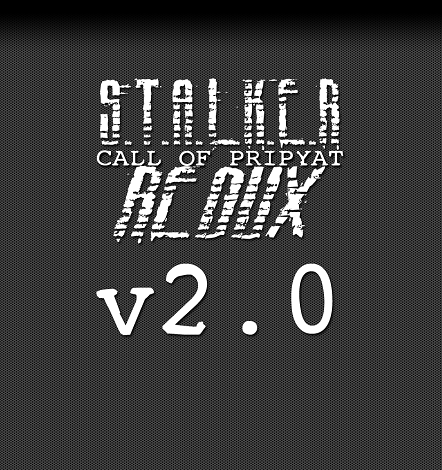 Call of Pripyat: Redux v2.0 is now in development!

Now with a strong team of dedicated developers, you can expect everything you wanted from v1.0, and much, much more.

More details soon, but until then, v1.0 is ready and available for download!

Check us out on Facebook and Twitter!
What's next for Redux?
As feedback starts to come in I'll work on fixing any issues that may arise (hopefully not many!) and getting patches out when needed.
After that, depending on how well v1.0 is received, I may start working on v2.0! (Though likely after a break, a different project perhaps)
Features I'd like to include in v2.0:
•New outfits.
•New missions.
•New items.
•New helmets.
•New traders.
•Breaking down damaged weapons for sellable parts.
•1:1 scale of real-time to game-time.
•Pripyat Overhaul
•All-new stash system, along with new stashes.
•A mutant-part looting system.
•Overhauled weapon and armour upgrade system.
And much more!
If you like the sound of these, let me know! Encouragement may well get me more motivated to do these things!
Lien:
Forum officiel
http://www.eurostalker.co.uk/redux/
http://www.moddb.com/mods/call-of-pripyat-redux